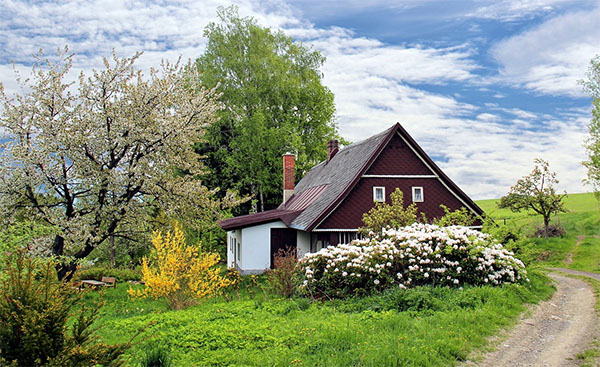 So big news to share today!
WE BOUGHT A HOUSE!!! AND ARE NOW HOMEOWNERS AGAIN!
It was a pretty surreal event as I'd imagine most times are when you drop hundreds of thousands of dollars on something, haha… But amidst all the congratulations being passed around on the day of our closing (something I remember enjoying MUCH more on the opposite side of the table!), deep down I wasn't nearly as excited as I was hoping to be at this stage of the game 😦
The house itself is great, and both my wife – and especially my kids! – are completely in love with it (the backyard is insane!), but as soon as we made the decision I began having pangs of regret even though I knew it was in the best interest of my family… And probably why I've been so quite about it lately here on the blog – I knew it would be a hard thing to write about!
But I'm hoping things will change once we're officially moved in and living there?? Rather than being so stuck in my *head* as I am now?!

While the house we chose wasn't The One I would have picked on my own, at the end of the day it really does check off a number of boxes – and more! – for us, so I'm trying my best to remember it's not just about me anymore and to suck it up and focus on the positives…
And there really are a ton of positives here:
#1. The backyard! I don't know how the former owners did it, but they managed to transform this massive backyard into one of the most serene and beautifully landscaped sanctuaries I have ever seen before. It literally feels like you've walked into your very own botanical garden of flowers and trees and play spaces and gazebos (!!) and bird houses and all kinds of other magic that lights up your eyes on the spot. And thus – why my kids are gaga over it 😉 "There are so many places to play hide and seek!!"
I asked for a list of what's in there so I can better wrap my head around it, and I don't even know what 90% of this stuff is, haha…
"White dogwoods, Korean dogwood, cherry blossom trees, kwanza, Japanese maple (red and green) varieties, spruce trees, Bradford pear trees, wisteria, lilac, crepe Myrtle, crabapple, redbuds, burning bushes, mulberry, forsythia, junipers, hydrangeas, azaleas, rose bushes, peonies, day lilies, clematis, coneflowers, coreopsis, tulips, columbines, butterfly bushes, iris's and much much more."
#2. The sunroom. If the gardens weren't enough, the owners had a custom built sunroom built right off the deck that overlooks this sanctuary of theirs, completely enclosed by windows on all sides! (And the future spot of where I'll be writing all these blog posts from!)
#3. The space. At just about 2,000 sq feet, it's not too big but also not too small – with plenty of room to grow into (or not) if we want. We got our 3 required rooms plus one extra to be used as a work space for my wife and/or a new kid's room if the heavens above find it in our future (we are NOT trying, believe me haha…). It also comes with an unfinished basement which is nice, not only for the ability to store stuff, but also for the potential of finishing one day later if we want to increase our living space or property value.
#4. The driveway/garage. For the first time in our lives, we actually have a driveway AND a garage – something my wife has always wanted since first moving in together 🙂 With plenty of room for a basketball hoop as our kids get older as well…
#5. The overall care and attention. From the appliances to the HVAC to the water heater to the roof – it's all been meticulously maintained and updated within recent years, giving us that extra peace of mind that nothing major should be looming around the corner… Although I'm fully aware that that can change at a moment's notice.
#6. The price tag. At $340,000, it slips right under our targeted budget of $350,000, and while we did have to pony up some for closing (around $4,000), our realtor was able to negotiate it well through multiple offers on the house, and even got them to throw in the riding lawnmower that will 100% be needed to help maintain the place… (more on that in a bit – which you already know where it's going!)
#7. The school zone. While we did flirt with other school zones due to a lack of homes on the market, we were both super happy to have landed in the one school district that's been at the top of our list the entire time. So yet again another win in the kids department!
#8. The walkability. This one was a tricky one to pull off if we wanted to stay in that above district, but as luck would have it we not only have some communities to walk around in, but also a shopping establishment or two that may or may not serve beers 😉 So my daily walks may have to turn into evening walks, haha….
So overall, a pretty good list to look forward to, right??
So why the hell am I so anxious??!
Well, you can't have the pros without any cons of course, and unfortunately for me those are standing out a lot more than I'd like them to be…
#1. We didn't get the dream community I was really hoping for… This was partially my fault as I totally misjudged just how many houses would come on the market, especially in the exact location we were shooting for. We initially saw 2 of them right away as we started our search, which led me to believe many more would show up over time and I ended up becoming picky and lost the one we should have nabbed. Only one other has since come on the market, and it was equally as overpriced as it was poorly maintained so it was an immediate no go…
#2. It felt rushed towards the end… Mainly because I severely underestimated just how much my wife did NOT like our Plan B of renting. The initial idea was to "keep our minds open with owning" and then if we didn't find The One, to go back to renting for another year until we did, but as time went on I quickly realized just how much she did not like the idea of having to pack up and move all over yet again, thereby crossing off that option and adding a new layer of urgency to matters. To make things worse, there weren't even any new rentals coming onto the market to pick from in our desired school zone!
#3. We don't know enough about this new area we chose yet. So far the neighbors seem cool, and from the outside there aren't any apparent red flags, but it was one area we didn't know too much about before visiting the house for the first time so we're still cautiously optimistic with things… Although there are a lot of basketball hoops and kid toys here and there, so that's gotta be a good sign?!
#4. That backyard is going to be a b*tch to maintain!! Something I swore I'd never take on, but after seeing my kids light up upon their visit I just couldn't lay down the hammer and figured it couldn't be THAT bad if others managed to do it, right???! Especially with a fun little riding lawn mower to play with???! And all that extra time with nature?! (Look how bad I'm trying to convince myself here, haha… I am FREAKED OUT!! SOMEBODY SAVE ME!!!)
#5. While the house is beautifully maintained, the style of everything is desperately outdated... There's carpet everywhere, linoleum in the kitchen/bathrooms, and outside of the sunroom and backyard there really isn't any "wow" factor to the place at all. On the flip side that means there's plenty of room for us to put our own mark on it and spruce it up our liking, but with three wee ones running around the house that's probably going to take a back seat for a while… And I know that stuff ain't cheap either.
#6. We dropped $73,000 of cash to secure it (20% down payment + closing costs). Not unexpected at all, and again less than we budgeted for, but still never fun to see that much money leave your accounts no matter what you're using it for!
#7. And lastly, I'm just not "there" yet with all this home ownership stuff still… I've been putting on a pretty face and was good there for a moment as we got going and did fun stuff like *looking around*, but now that things have become a reality and there's no backing out, I'm feeling all those pressures again I remember hating the first time around… Even though logically I know we'll be perfectly fine and it really isn't the end of the world! In fact, it's the BEGINNING of a whole new one that my family's super excited about!
And really, it's that last part there that calms me down the most whenever I start getting into my head, and what I imagine will eventually help me overcome this current mind mess I'm in…
It may not be the most ideal home or situation if I had it my way, but as I've realized at the start of this journey, it's not just me calling the shots anymore and if everyone is saying this is The House for us, well, then it's the house for us and I need to be at peace with it!! And we already bought it anyways so why am I still stewing on it??!
I'm sure you won't be shy with the comments, but this is just me getting it all out there and keeping things as transparent as I can, as life – and finances – aren't always so pretty 😉 I was really hoping to be excited about it all and tell you I'm over my fear of owning – but nope!! It's still very much lingering there! Haha…
Though if there's one main takeaway here, it would be to allow a LOT more time for home searching than we did, especially if you're targeting a specific community. If I could do it over again I would have started our search 3-4 months earlier which would have allowed the reality of owning to settle in more, as well as the opportunity for more houses to come on the market… Maybe we would have landed on the same house in the end, I don't know, but at least I would have been more prepared for it!
And that's where we're at now, with things… With more to come later, I'm sure 😉
Comments/questions/positive vibes – pass 'em all over!!
Thanks for listening!

******
PS: That's not our house in the picture, but it feels like it should be to match our backyard, haha…
********
[Prefer to get these blog posts *weekly* instead of daily? Sign up to my new weekly digest here, and get other thoughts on life/business/money as well: jmoney.biz/newsletter]
from Finance https://www.budgetsaresexy.com/homeowners-again-but-struggling/